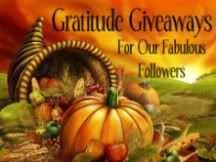 I'm Doing a Gratitude Giveaway so welcome (it's the first time I've done it. This is another blog hop.
Who knew about these things - well you live and learn.
To be eligible, all you have to do is be a follower of my blog and leave a comment on this post. That's it! You are then automatically entered to win a free copy of my book, "Perfect Score".
Winner will be chosen the day after the giveaway ends on November 28.
And remember to hop to all the other participating blogs, as well. I know I will. That's over one hundred and fifty chances to win books!