Ellen, thank you so much for coming over today.
Q: How would you describe the Rabbit series for someone who's never read any of the books?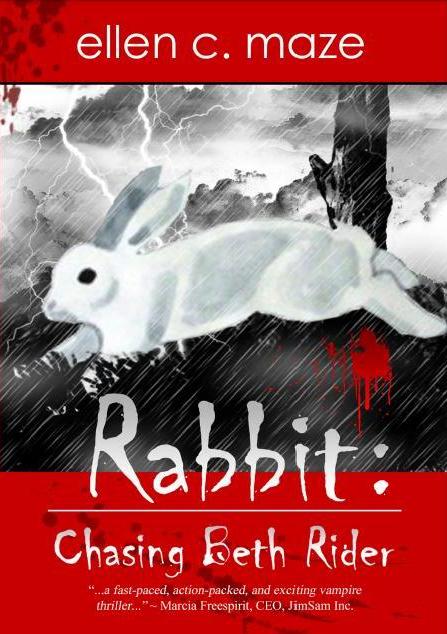 Ellen

: Hi, Sue! Thank you for having me here! Rabbit, ah, where to begin? It all begins with Rabbit: Chasing Beth Rider (Book One). Christian Fiction novelist Beth Rider has found huge success with her vampire tales, specifically her first one, The Judging*. Unfortunately, while she thinks she's writing fictional characters and mythological monsters, there are in fact real vampires around that hate the message of redemption found woven into her novels. Beth innocently writes a provocative vampire storyline wherein her vampires learn about God. In the real world, the vampires—the Rakum— (a new mythos I created for this series) hunt her down to destroy her. From there, you have the classic hunt and chase elements, with a little romance between Beth and one of the softer-hearted Rakum, and plenty of peril interjected in every chapter.
Everyone should read the some of the reviews before you buy—this story is for 97% of people; 3% have become angry at me for sticking God into this fantasy. Oh well! We press on! (I didn't write it for the 3%
J
)
Q: Can we read them in any order? Do the same characters appear throughout the series?
Ellen

: If someone reads them out of order, I tried to make allowances for that, but it is best if you read them in this order:
RABBIT: CHASING BETH RIDER (Book 1)
LOOSE RABBITS OF THE RABBIT TRILOGY (20 short tales of delicious and necessary back-story not found in the other novels)
RABBIT LEGACY (Book 2)
God-willing, Book 3 will be ready by the end of the year. I am almost ½-way finished writing it and IT IS AWESOME. I am in love with it! Sorry, I get excited...
As for the characters, many carry over, but as in real life, some fade out and new faces hit the screen. I am introducing a couple of new faces to Book 3 that have me all a-twitter (and I don't mean the social site!)...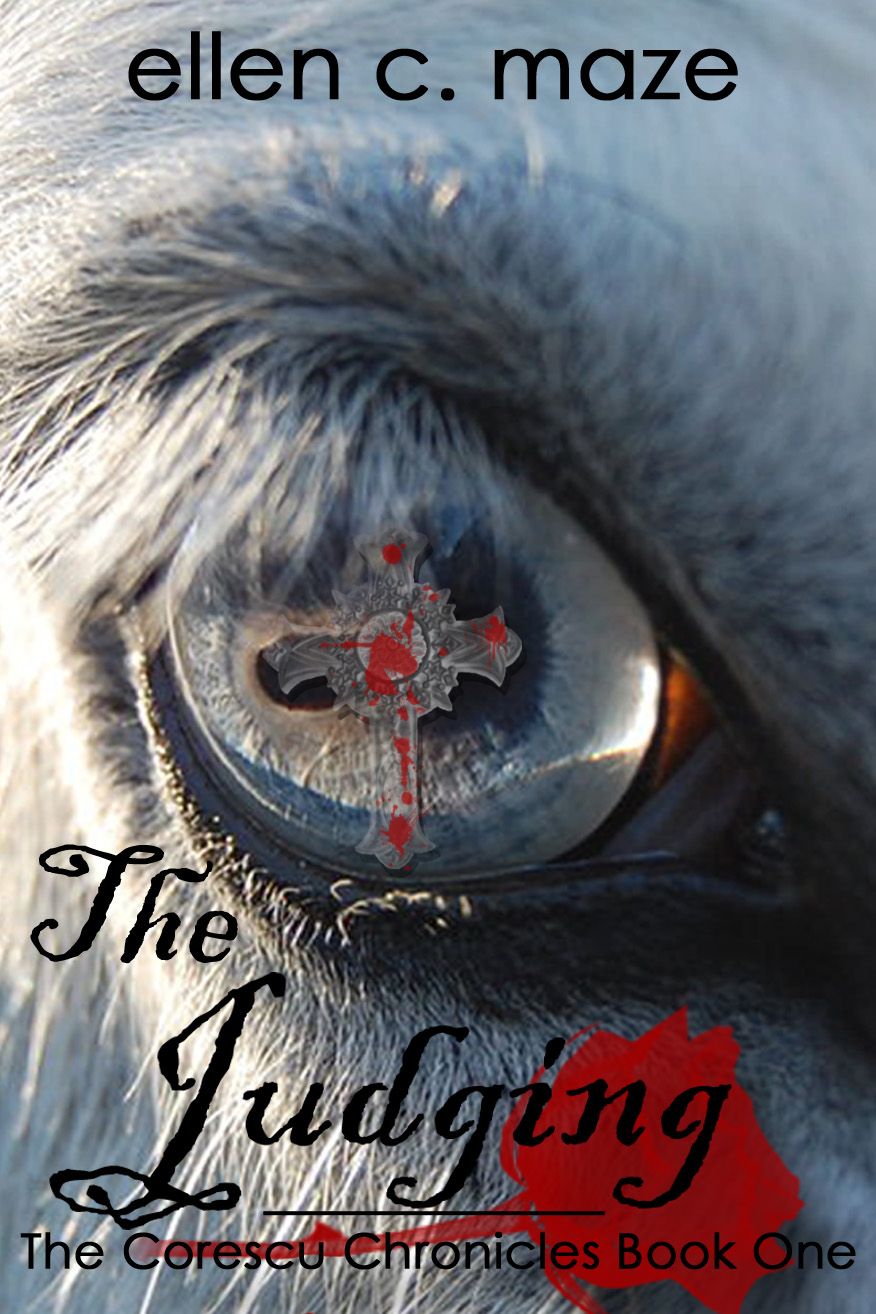 * Some of the keener readers will have noticed that I placed an asterisk after "The Judging." This novel that Beth Rider wrote is actually a novel of mine which was published AFTER Rabbit came out. So now it is #1 in a separate series called THE CORESCU CHRONICLES. Initial reviews of this new book are 100% 5-stars...so far so good, eh? Nervous titter...
+++Believe me, it's fabulous - I'm on this one now. This is her third book that I've read in almost as many weeks.
Q: You've definitely found the "holy grail" to success. What prompted you to give a twist to the classic theme of Vampires?
Ellen

: LOL—I like that, great pun! Well, I have always been a vampire fanatic and I grew up on the classics: Bram Stoker, Anne Rice, Robert McCammon & Stephen King, to name a few. I also have always wanted to write vampire stories. It wasn't until 2004 after having a vivid dream two nights in a row did I write my first "Christian" vampire novel (The Judging). Since then, I have been compelled to write—I can't stop! I have 6 works published, one due out in May, and I am writing 2 novels simultaneously right now. I can't help myself! I love to write and I love to share my stories with others. I feel blessed that I can!
Q: Most of the readers here are authors themselves. What advice would you give to new authors?
Ellen

: New Authors? Folks who have just had their first book published, I assume? My advice is to promote the poopie out of that thing! You need to get set up on Facebook, twitter, myspace, freado, shoutlife, youtube, goodreads, the list goes on and on.
You simply MUST be established on these sites (because readers congregate here the most):
FACEBOOK.COM
GOODREADS.COM
FREADO.COM
LIBRARYTHING.COM
AUTHORSDEN.COM
YOUTUBE.COM
SHELFARI.COM
GETGLUE.COM
There (whew). That ought to keep you busy!
:)
Q: What do you like to read and what is your favourite book of all time?
Ellen

: Oh, my... Please don't hate me, but my very favourite leisure-time reading is whatever novel I'm working on or that I just finished. Is that awful? I should be ashamed. Sorry. Maybe some of you feel the same way about your books and will commiserate. So, when I'm not reading something I wrote (I'm so embarrassed), I have grown fond of celebrity memoirs. Heheh. I read a William Shatner, a Gene Wilder, and waiting in the wings is Ellen Degeneres, Steve Martin, and Leonard Nimoy. I get these books for free on Paperbackswap.com. If you like to read, you should check this out.
My favourite (non-biblical) book of all time? Geesh, you got me in a corner here. Can I please name a classic favourite and a modern favourite?
CLASSIC: "Dracula" by Bram Stoker
MODERN: "The Garden Key" by Angela Dolbear ( go see it at www.thegardenkey.com and you won't be sorry!)
Q:

Give us three "Good to Know" facts about you.
Ellen:
1.) Ellen loves kittens, but her kittens have all grown into cats and she has to wait for one to die off to get more (she has 5 inside!).
2.) Ellen's stories are really creepy, but at the same time they feed your spirit which can make you feel light when you're done (they say...).
3.) Ellen is extremely outgoing and friendly, but some people think she is a little off (this doesn't bother her at all).
Q:

Your new novel "The Indwelling of Tory Blessing" is coming out next year. I know that because I read the short-story version in "Feckless" called "Possessed". Can you tell us more about that, and also what the future holds for you?
O-M-GEE – I am super-uber-extra-stoked about this new one. It is blowing me plain away, and every day, I am adding to it as the Muse allows. Check out the teaser at www.ellencmaze.com/sneak-peek.php to read a brief synopsis. As you can see from the title of the "short," it will deal with demon possession—but totally from the unbeliever's perspective.
So what if your father was possessed by the spirits of 7 Old Testament Gods? So what if he arranged for you to marry his successor as the Lord of Darkness before you were even born? Tory Blessing is born into this odd world right here in 2011. The Ba-alim, ancient Babylonian gods, have all but died out. Tory's destiny is to marry the last one in an effort to repopulate their nefarious race. Weird, eh?
Slowly, and in the creepiest way ever, the reader will walk in Tory's shoes as she discovers her destiny and meets this handsome devil she is to marry. Tory will enter the story with a desire to fulfil her father's last wishes, but by the end, after reading her mother's journal (whom she never met), she will reconsider all she was raised to believe.
I can guarantee this storyline will raise eyebrows, but OH I can't help myself!
+++Ellen has generously offered a copy of her novel, "FECKLESS TALES OF SUPERNATURAL, PARANORMAL, AND DOWNRIGHT PRESUMPTUOUS ILK", she says, to give you a wonderful sampling or not only her work (Ellen has 11 stories in this collections, some vampire and some paranormal in other ways), but also some of her closest author friends...including an excerpt from her aforementioned favourite modern fiction title, THE GARDEN KEY by Angela Dolbear.
If you post in the comments section your answer to this question:

"Why would you like to read this book?

" I'll choose the winner with the most imaginative response. I do recommend you take part because it'll give you such a fabulous foretaste of an author who, if you haven't already discovered her, writes books you can't put down.
Ellen, thank you so much for visiting "Lauracea" today and I wish you every success with all your future projects.
Ellen

: THANK YOU for having me! What a blast! Everyone please come take a gander at my books at www.ellencmaze.com. I put all of the covers right there on the first page, and you can link around from there to find out all you need to know. Except maybe that I am 42 years old and love Papa John's Pizza, but that's a little too much information, eh?