Fabulous artist: Nathie (http://nathie.deviantart.com)


It's count-down to "Hewhay Hall" being published (20th April). I tried to make my blog all spooky in preparation but...um...I don't think I quite managed it, do you? LOL.
Never mind! I've got great friends who always help me out when I shout. And today I'd like you to meet a very special one: Marie Dees. She's also a published author (check here: http://mariedees.com/) as well as a talented and patient editor - she bravely put up with me when "Perfect Score" was being published.
Now, besides all her other hats, she's also part of a ghost hunting team. Ever wondered about those? Let's have a peek...
The Walking Unknown with filmmaker Nicole Novatan
Marie: I write paranormal fiction. I come by it naturally. I write what I know; it's just that I know some unusual things. Let's take ghosts. I spent a year researching for the mystery novels by working with a local ghost hunting group. This group worked a lot like the teams you see on TV that set up cameras and audio equipment and carry around EMF meters. In fact, I learned how to do just that. In fact, I'm going to be part of a documentary called The Walking Unknown done by a young filmmaker coming to terms with her own experiences with the paranormal.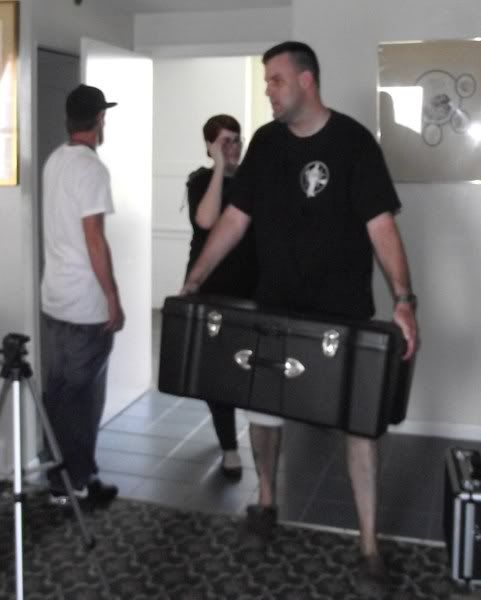 The Walking Unknown with filmmaker Nicole Novatan
Ever wonder what it's like to go out with a working ghost hunting team? Many teams have now started offering tours and experiences where you can investigate with them for a small fee, but with those, you often experience only part of an investigation. What you skip is the sweaty, freezing and often exhausting part.


First we'd arrive at the location to set up all the cameras and other equipment. Not a big task when investigating someone's home, but we did 2 investigations in the Putnam Hotel in Deland. The seven-story hotel is currently closed for operation. The elevator doesn't work and there is limited air-conditioning. We lugged all our equipment up to the fourth floor to set up base then ran cameras and wires through seven stories of building, sometimes threading them out of windows and over roofs. Here's a picture of Pax with just one equipment box that he lugged up those stairs. In July. In Florida. With no air-conditioning.
Oh, after the investigation, we had to pack up all the equipment and carry everything back downstairs. This means we started about 5pm and finished at about 3am. Most of the guests on the investigation didn't make it that long.


So, everything is set up and it's time to investigate. This means going to a location, settling in with all the lights off and trying to have a conversation with your flashlight. I've seen people leap out of the chairs when the flashlight starts responding to the questions. It's one of the cheapest and easiest pieces of ghost hunting equipment you can find. All you need is a simple Maglite flashlight. Set it so it's just on the "off" side of off and put it down somewhere stable. Now, talk to it. It's not easy to think of questions to ask a flashlight that's standing in for a ghost. I discovered being a writer helped put me in the mindset of talking to a person and that often resulted in getting better answers to questions. Below is a picture of two of us having a conversation with nothing. An entire night where we didn't pick up anything despite our best attempts. Sometimes it happens.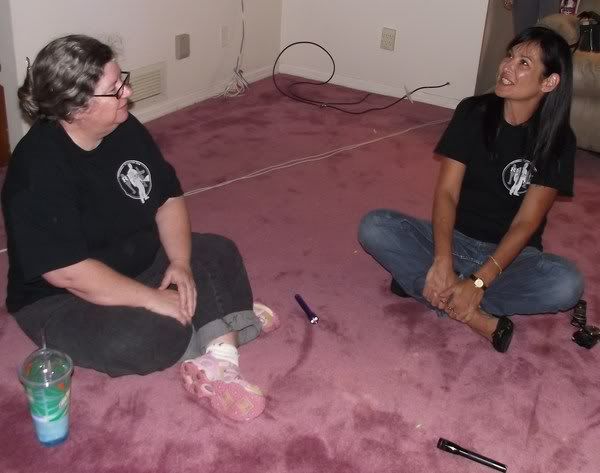 Talking to ghosts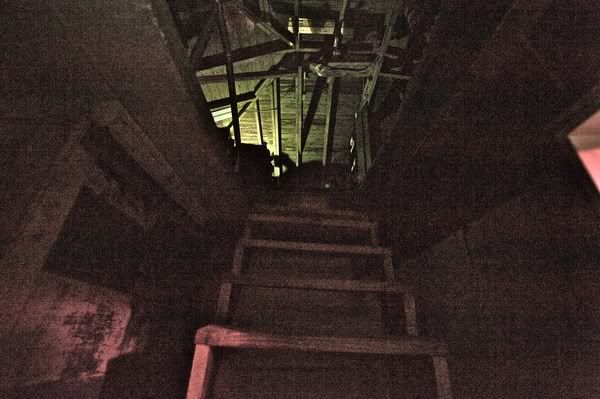 The elevator staircase
Is it scary? Everyone wants to know that. I'll tell you about the one time I was actually scared enough to move my team to another location in the Putnam. Nope, not because of a ghost. Remember ghost hunts often take place in abandoned buildings. I was leading a small team of three and we were investigating the service space above the elevator in the Putnam. We'd had good engagement with something in the attic below but weren't doing well in the elevator space. But I let myself think about the fact that a tight abandoned space like that was a perfect spot for rats. And we were sitting in complete darkness. I stayed as long as I could and then asked the others if they wanted to change locations. Oh, yes. I think we all had the same thought. Ghosts I don't mind, but I don't want a close up encounter with a rat in tight, enclosed location. Here's the stairway we scrambled up and down that night.
**** I agree, Marie, I think I'd be more scared of a rat. Thanks for joining us today.
Here's Marie's site: http://mariedees.com/. Check out her books!